Hive Time
Buzz buzz!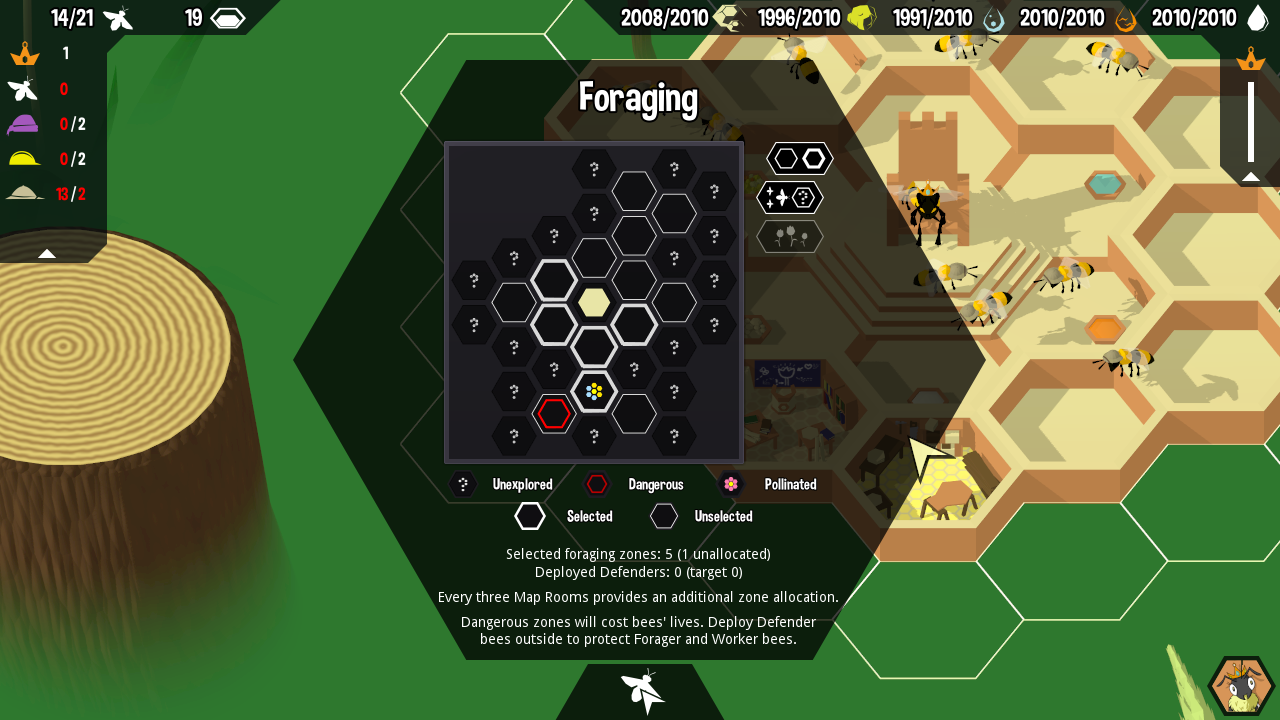 Today's update includes a number of small quality-of-life improvements, particularly in the foraging screen, which now gives greater visual emphasis to unexplored zones.
Today also marks the one-month-versary of Hive Time's release. To celebrate, we've made prototype builds based on the 10th day snapshot of Hive Time's source, taken at the end of the game that we initially started development for. Our hope is to show Hive Time's origins and give a point of comparison for what was accomplished across the 7 months' worth of development between then and release.
If that sounds fun, you can find it over here!

Enjoy!
Full changelog:
Added version.json to .gitignore
Added version.json version number substitution to build script
Added question mark icon to unexplored cells
Added opt-in check for whether there are newer versions available
Added version check option to system settings menu
Added new version notice to main menu
Added regular verification of pending resources to ensure no lingering pending resources will stall production
Updated 'Your first hive' tutorial to distinguish empty cells from grid tiles
Updated construction submenus to have 'cells' on the end
Updated tutorials to use new submenu names
Updated bolding of 'Workshop' in Workshop tutorial
Updated tooltip delay to make tooltips appear sooner
Fixed mis-clicks closing bee customisation popup
Updated default population screen text to highlight that ratios are for each individual bee rather than the whole population
Updated exit info screen to mention three-bees-per-cell rule
Updated resources tutorial to indicate that players should wait for stores to fill
Updated event skip limit to ensure events trigger more frequently
Fixed inspect toggle button clicks not showing/clearing inspect mode prompts
Fixed LEAVE_AND_DIE activity not clearing bee payloads from pending resources list
Files
hive-time-linux-v1.0.zip
89 MB
Version v1.0-18-g517d4c76
Jan 12, 2020
hive-time-mac-v1.0.zip
89 MB
Version v1.0-18-g517d4c76
Jan 12, 2020
hive-time-windows-v1.0.zip
88 MB
Version v1.0-18-g517d4c76
Jan 12, 2020