Hive Time
v1.0-28, v1.1-20, v1.1-21 & v1.1-22 changelogs
---
Buzz buzz!
This post rounds up several minor patches that have shipped since the Informational Update went live.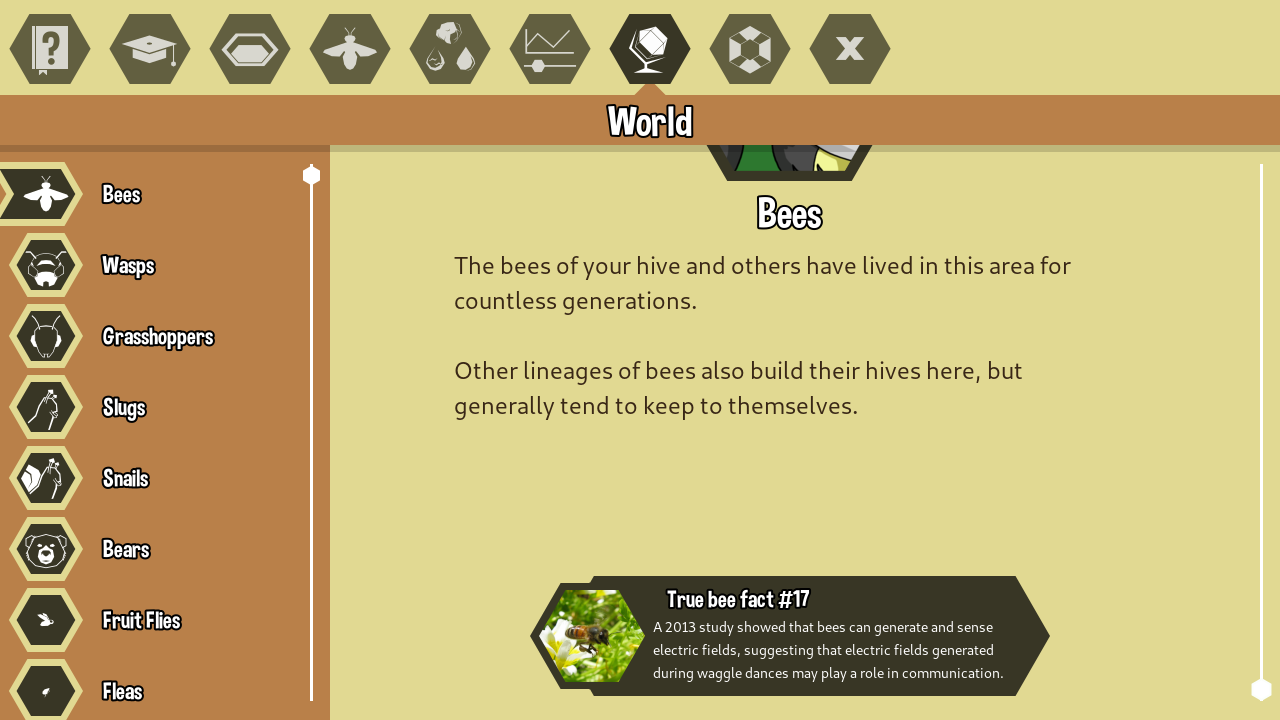 The main fix and biggest spanner in the works has revolved around the new version check returning falce under certain circumstances. Unfortunately, one of those circumstances was when the current version was v1.0-x (pre-Informational Update), and the latest version was v1.1-x.
To make it easier for v1.0-x players to discover the Informational Update, I've shipped a small update to the v1.0 branch that also includes a typo fix and a new bee name that didn't find their way into release builds before I switched gears to focus on the Informational Update.
I'm not planning to ship general patches to the v1.0 branch, but I'm happy to do critical fixes so that anybody who'd prefer to run the pre-Informational Update version of the game can continue playing.
Changes to the v1.1 branch include miscellaneous fixes for various edge cases. The most notable of which is the mouse cursor disappearing after panning on MacOS (I'd run up against this with Windows testers before v1.1 shipped, but it looks like the Mac build was only tested with touch gesture panning - whoops!).
Also in the v1.1 branch are a bunch of new bee names and several new bee facts. Yay!
Enjoy!
Full changelog for v1.0-28-g587e07e0
Added a bee name
Added some blank newlines that Godot insisted on making to scripts
Updated default Butler path in build/deploy script
Fixed new version check returning false due to string comparison
Fixed typo in 'they're all asking for little badges' event
Full changelog for v1.1-20-gcf59e7c3, v1.1-21-g5f5aa9fd, and v1.1-22-gaf0deb62
Added 6 new bee facts
Added 36 new bee names
Reverted cursor position restoration when panning on Mac
Fixed typo in bear fact#3 reported by Dargenom
Fixed new version check showing an error when the currently running version is newer than the latest advertised version
Fixed new version check returning false due to string comparison
Fixed typo in upgraded pollen storage research description
Fixed non-bee facts not displaying images
Fixed Queen portrait list potentially containing doubles of each portrait
Fixed vignette active state not being cleared when creating a new hive while an existing game is running and has an active vignette
Fixed progress rings being visible under the hive
Files
hive-time-linux-v1.1.zip
101 MB
Version v1.1-22-gaf0deb62
May 23, 2020
hive-time-mac-v1.1.zip
102 MB
Version v1.1-22-gaf0deb62
May 23, 2020
hive-time-windows-v1.1.zip
100 MB
Version v1.1-22-gaf0deb62
May 23, 2020
hive-time-linux-v1.0.zip
89 MB
Version v1.0-28-g587e07e0
May 23, 2020
hive-time-mac-v1.0.zip
89 MB
Version v1.0-28-g587e07e0
May 23, 2020
hive-time-windows-v1.0.zip
88 MB
Version v1.0-28-g587e07e0
May 23, 2020