Hive Time
2019-07-06 Build (preview-44)
---
Hello, hive friends!
Obstacles are finally here! Construction is now inhibited by a bunch of large and small obstacles that will (hopefully) invite more planning. There are some adjacency requirements that I have lined up down the track that should provide some extra planning pressure for mid and late game players, but for now, I'm interested to hear how this patch affects the feel of a whole game.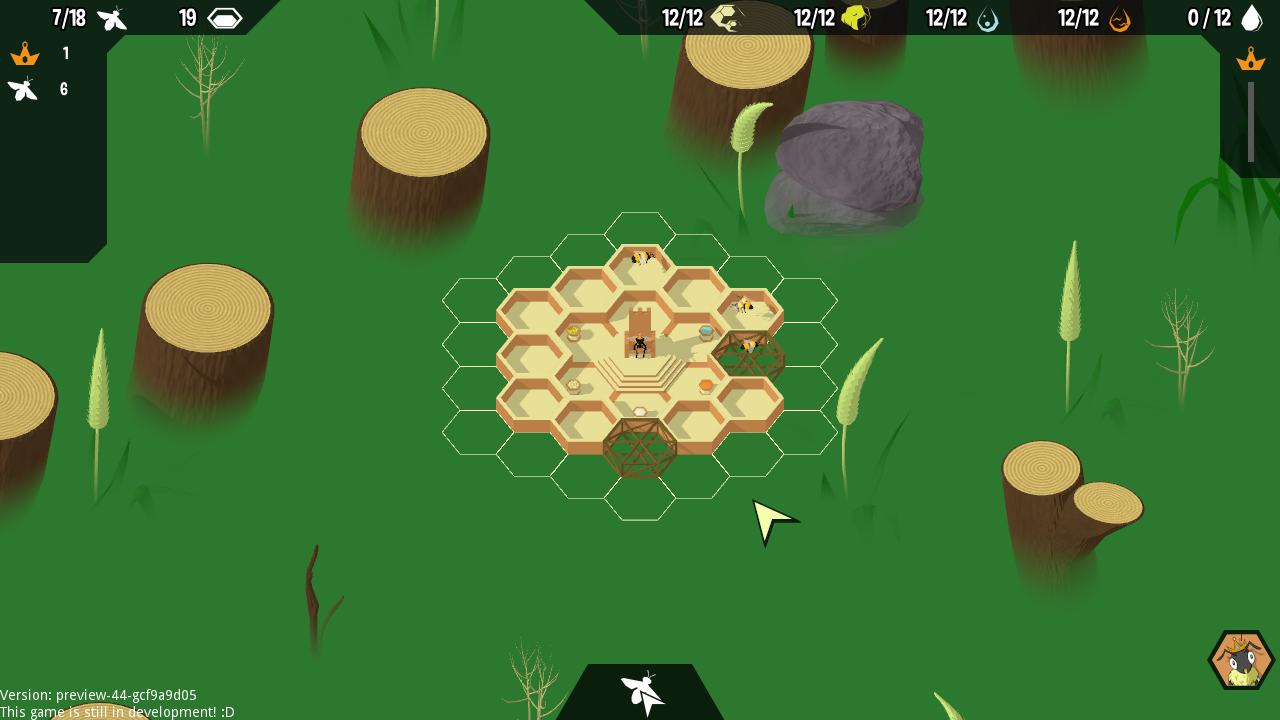 This patch also fixes a bug with loading old saves that was introduced in preview-42 as part of updates to the research system. It's a little fiddly so I've decided to not special case a backwards compatible loader for the research system, which means that the game is no longer compatible with saves prior to preview-42. I know I'd said I'd try to avoid this, but unfortunately, plans don't always work out!
If anybody has a pre-preview-42 save they'd like to continue to use, send it through to me and I'll manually update it. Apologies for the inconvenience!

Full changelog:
Added small construction obstacles
Added large construction obstacles
Added skip obstacles setting
Added check to stop foragers and workers dying when they are outside the hive or carrying resources
Added vintage text to bee details to indicate age/lifespan relationship
Added life span to bees and added per-bee jitter
Removed bee starting age jitter
Removed all hard coded hexType values
Fixed crash when loading caused by old research import code
Refactored entity list
Increased fog depth
Files
hive-time-linux-preview.zip
87 MB
Version preview-44-gcf9a9d05
Jul 06, 2019
hive-time-mac-preview.zip
88 MB
Version preview-44-gcf9a9d05
Jul 06, 2019
hive-time-windows-preview.zip
85 MB
Version preview-44-gcf9a9d05
Jul 06, 2019