Hive Time
2019-06-12 Build (preview-36)
---
Hello bee friends!
Apologies for the slight gap in updates. Some unfortunate news sapped my motivation for a few days, but I'm back now with some good forward progress on a couple of fronts.
Firstly, I think I've knocked some crashes on the head relating to bees who don't return to the hive correctly. When autosaving, it was possible for these bees to put bad data into the save file that would crash the game on load, or crash during the save process. With autosaves enabled, this meant the game was likely to sew the seeds for its self destruction one way or another after 20 minutes of play time. Good times! I still haven't quite managed to track down the cause of bees not returning to the hive correctly, but I do have some ideas (and addressed one of those in this patch). In the meantime, these fixes make that less fatal!
Secondly, after some false starts, we have some new bee poses (single frame animations - eventually these will be expanded to be more interesting, but for now, it's just indicative of where animations will occur). The Queen now sits upright in her throne, and bees tuck their wings away when they don't have far to travel or when stopping at a cell, hopefully giving a visual impression of walking vs flying.
Last but not least, there are vignette and info graphics for the Throne room, which hint at an upcoming feature that I've had planned for a while.
I had hoped to ship this update on the 10th of June, which is when people in my particular corner of the world choose to celebrate the Queen of England's birthday. It is, of course, not the Queen's birthday at all, and in Australia alone, it's celebrated on three separate dates in different months, depending on which state you're in. Canada celebrates Fête de la Reine on the 25th of May, which was apparently Queen Victoria's birthday, so that at least makes sense.
I'll be the first person to admit that the colonial heritage that we put so much effort into celebrating should instead be commiserated, but in this rare case, I was happy to lean into it and reference this silliness.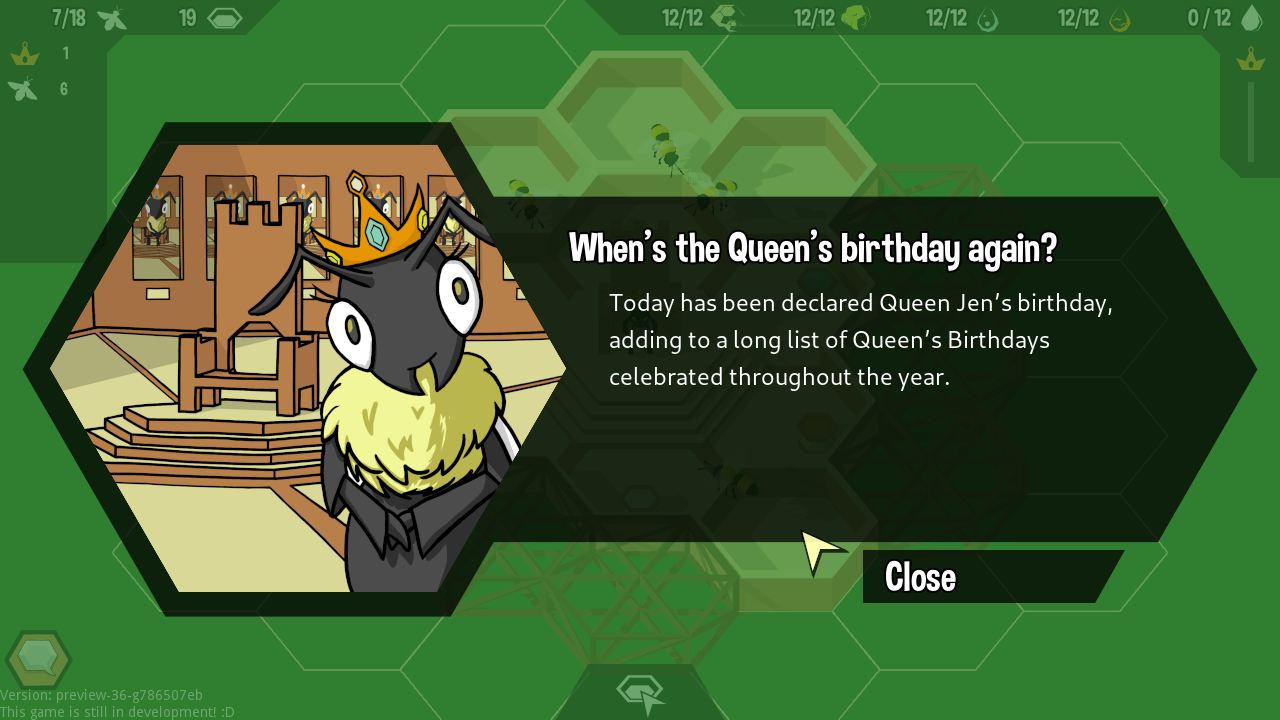 Enjoy!

Full changelog:
Added initial Queen sitting pose
Added bee wing poses for fast and slow movement
Added playtime to save games (not user-visible)
Added Throne info image
Added Throne vignette image
Added new throne (chair)
Fixed DOF not updating during menu transition
Fixed foragers not returning to hive properly
Fixed pause timing sometimes resulting in an unwanted game frame when transitioning to/from the menu
Fixed possible crash when bees get lost
Fixed possible crash caused when loading bees that didn't return to the hive interior properly
Tweeked Queen pop in/out size in construction mode
Reworked bee initialisation to not require setting up area and bone attachment nodes
Upgraded save and load log messages to errors to force log flush
Files
hive-time-linux-preview.zip
87 MB
Version preview-36-g786507eb
Jun 12, 2019
hive-time-mac-preview.zip
88 MB
Version preview-36-g786507eb
Jun 12, 2019
hive-time-windows-preview.zip
85 MB
Version preview-36-g786507eb
Jun 12, 2019