Hive Time
Greetings, fellow bee friends!
Today's update addresses the glaring omission of tooltips for settings in the main menu!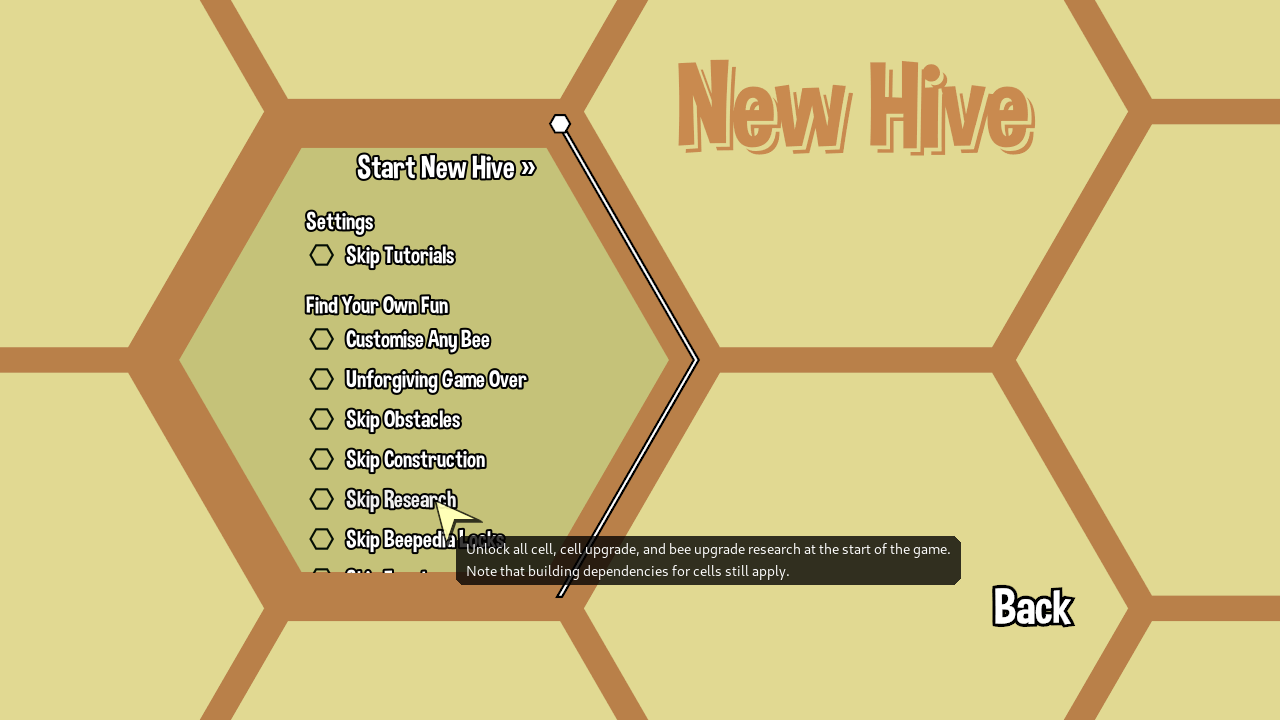 When starting a new game, or visiting any of the settings screen, hovering over an item will now reveal a description of that item. The look and feel of tooltips throughout the game have also been updated.
Another item of note is the addition of a much requested master volume slider. If you're streaming and want to tweak Hive Time's noisiness without fiddling with a bunch of sliders, or if you need to quickly quieten the game for a phone call, that's a lot simpler now.
Last but not least, I wanted to make a quick note that Hive Time is now included in the Itch Bundle for Racial Justice and Equality, which has so far raised over $4 million dollars. Along with 1,500+ other games and 1,000+ creators, we are supporting the NAACP Legal Defense and Educational Fund and Community Bail Fund for the next 5 days. Please consider checking it out <3
Enjoy!
Full changelog:
Added tooltips to settings menus
Added tooltips to new game menu
Added tooltips to HUD values
Added master volume to audio settings menu
Added some new supporter names to credits.json
Added placeholder gameNode when testing main menu independently
Updated phrasing of 'So hot right now' vignette
Updated in-game tooltip theme
Updated skip_research tooltip
Refactored settings definitions
Fixed main menu scrollbars not scrolling to bottom
Fixed workshop tutorial and research tutorial showing vertical scrollbars
Fixed tooltips not displaying in menu (working around upstream #29362)
Files
hive-time-linux-v1.1.zip
101 MB
Version v1.1-24-ga37ea00b
Jun 11, 2020
hive-time-mac-v1.1.zip
102 MB
Version v1.1-24-ga37ea00b
Jun 11, 2020
hive-time-windows-v1.1.zip
100 MB
Version v1.1-24-ga37ea00b
Jun 11, 2020