Hive Time
Greetings, fellow bee friends!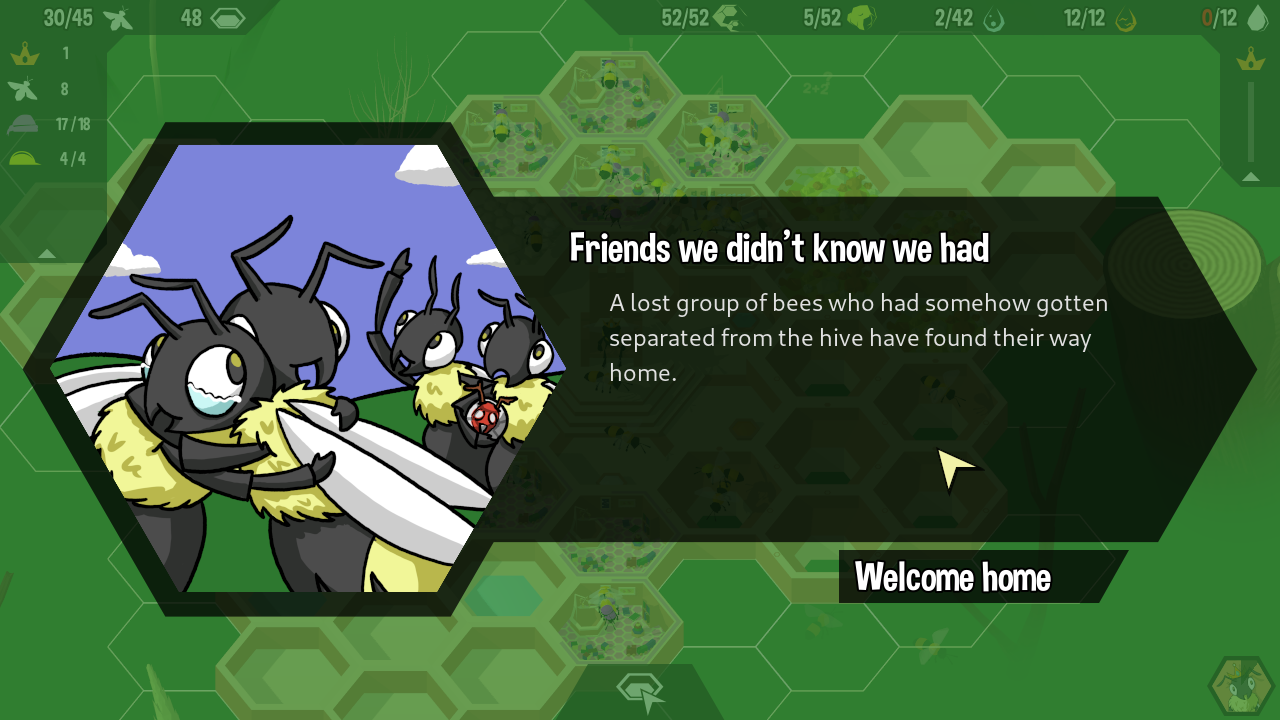 Today's update includes a number of miscellaneous fixes/tweaks, the most noteworthy of which is a new tutorial at the very beginning introducing the game's basic controls and prompting players to look at the Controls Settings menu for more constrols/shortcuts. Alongside this, all tutorials should now reflect custom bindings when describing how to do stuff.
Also included in this update is artwork by Mim for the "Friends we didn't know we had" event, which along with the "Random act of kindness" event that was restored in v1.0-3, now means that all of the content we removed from the game in order to make the release date is now back in the game. Neither event is critical, and we were comfortable with the idea of them not being included with the game if we didn't get a chance to add them back in, but it's very nice to see them return!
Enjoy!
Full changelog:
Added some more supporter names to the credits
Added basic controls tutorial before tutorial_01
Added click and drag manual scrolling to credits screen
Added smooth follow camera option to video settings
Added debug shortcut (Shift+K) for making the current Queen 5 seconds from the end of her life
Added 'Friends we didn't know we had' event and activity images
Updated 'Friends we didn't know we had' event text
Updated controls tutorial to use a list
Updated exit tutorial image to include exit dots
Updated 'A graceful return' event to require available nectar and pollen storage
Updated 'A dancer no more' event to require available jelly storage
Updated 'We know they're in here' event to require available honey storage
Updated tutorial events to use current key bindings
Updated nursery tutorial to use 'population management' instead of 'role management'
Updated credits panning to use ui_select rather than ui_accept
Updated beesitter population decline checks to be less sensitive
Updated default volume level for hive sounds
Updated event image for tutorial_01
Refactored radial menu handling to reduce possible cases where a radial menu could be exited without being closed
Fixed typo on research screen
Fixed defence radial menu shortcut conflicting with destroy option
Fixed population sliders/locks not being correctly restored when creating a new nursery after all nurseries have been destroyed
Fixed follow cam smooth state being flipped
Fixed settings menu sliders and checkboxes not playing hover sound
Files
hive-time-linux-v1.0.zip
89 MB
Version v1.0-14-gedf8009a
Dec 26, 2019
hive-time-mac-v1.0.zip
89 MB
Version v1.0-14-gedf8009a
Dec 26, 2019
hive-time-windows-v1.0.zip
88 MB
Version v1.0-14-gedf8009a
Dec 26, 2019