Hive Time
2019-12-11 (preview-193 & preview-194)
---
Only one more sleep till Hive Time comes out!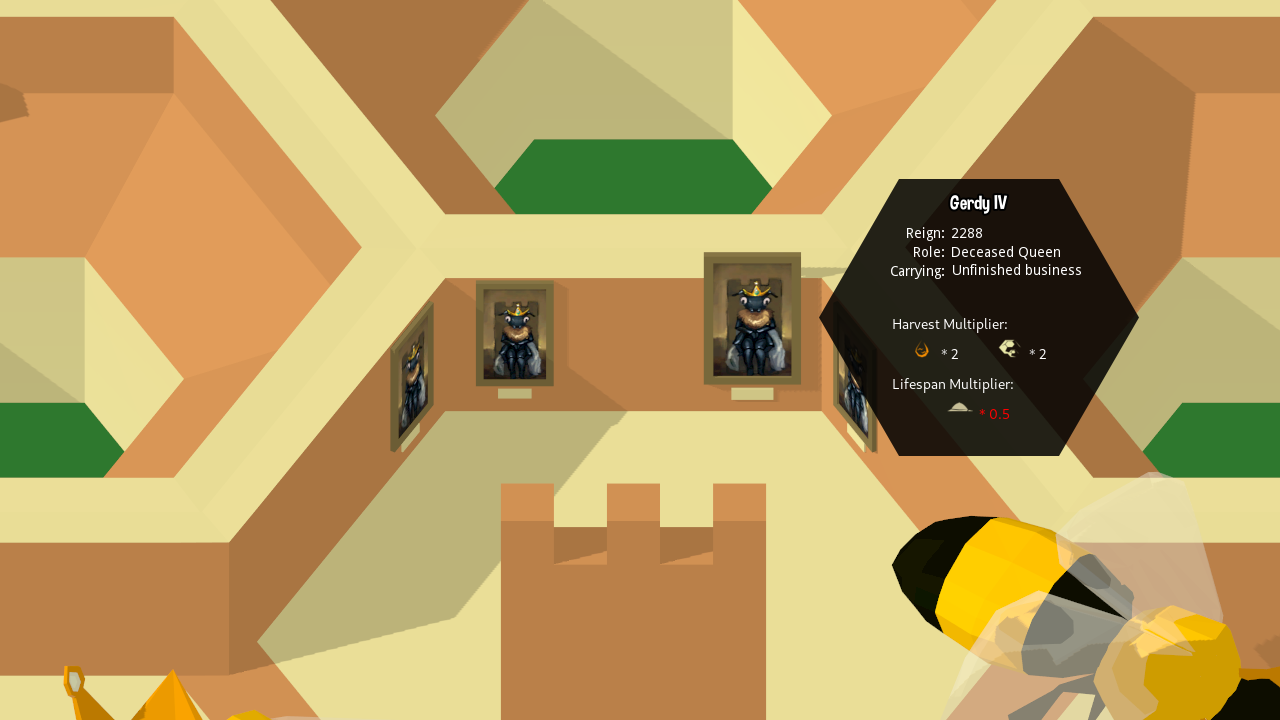 Today's update includes some new Queen portrait art painted by our friend Aubrey Serr from 12 East Games. As release closed in, painting new art for Queen portraits looked like it was going to be a nice-to-have that would become a maybe-next-time (the placeholder art is weird-but-almost-cute in the way that the rest of the game is, so it was something I was content to be content with), but Aubrey offered to contribute, and I'm super happy to have some of his work in the game.
This update includes a bunch of tweaks to the credits as well, with tester/pre-release player credits for everybody that I've heard back from. If you've had access to builds and haven't sent me a name for the credits yet, get that to me ASAP!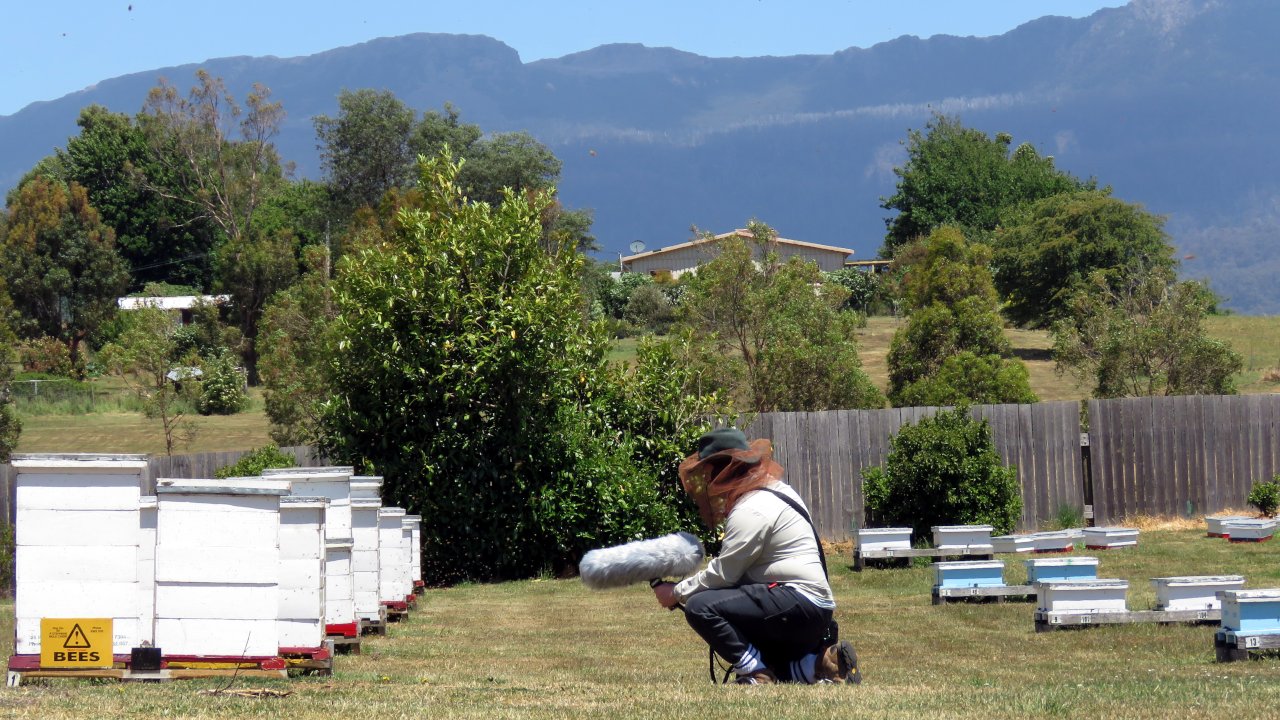 Yesterday, I took half a day off development to go and do field recordings at a couple of local honey farms (R. Stephens Apiarists and Melita Honey Farm). I haven't had time to process my recordings yet, but I'm very much looking forward to having some local bees star in Hive Time.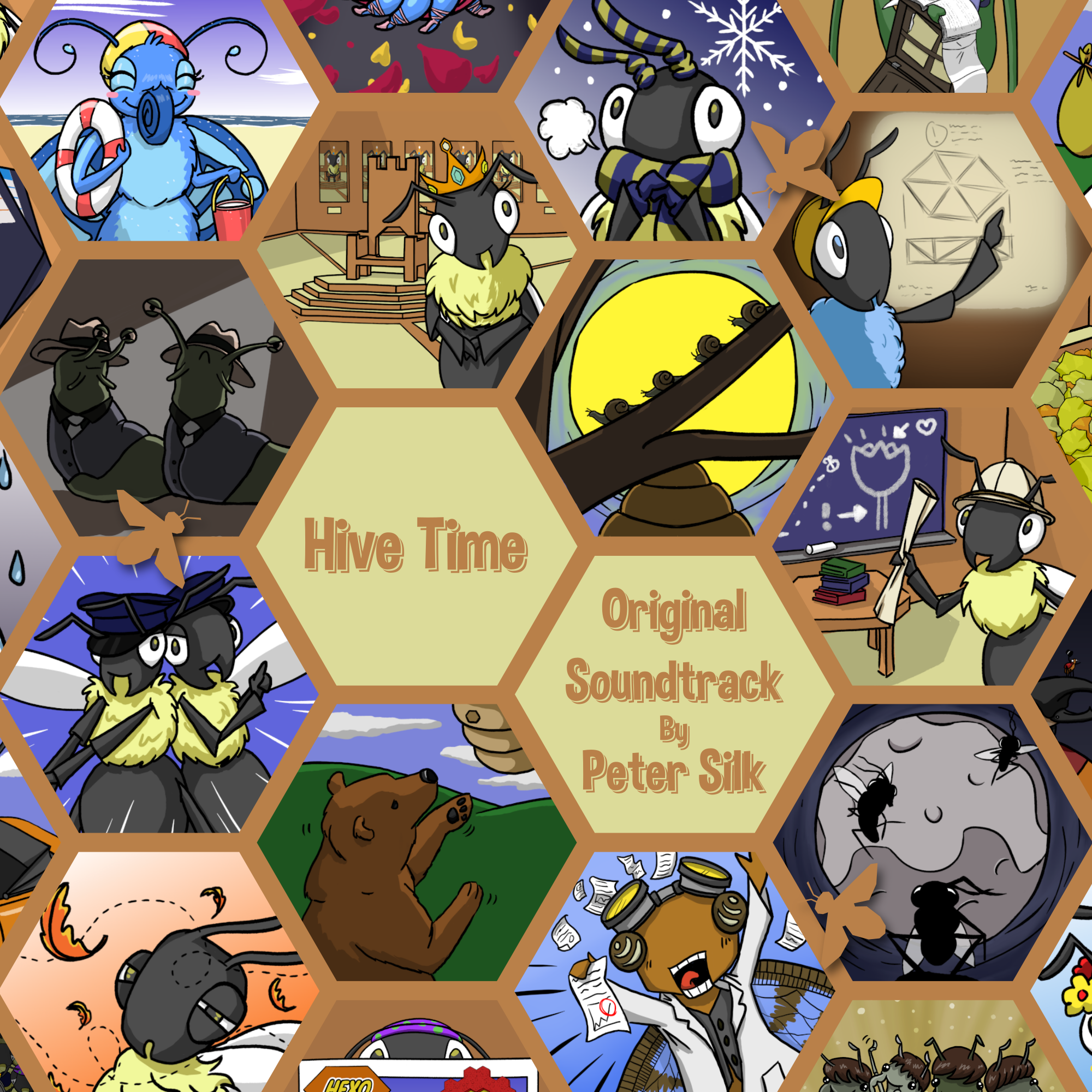 I also spent some time putting together cover art for the soundtrack, which will be released tomorrow (a couple of hours earlier than the game) over on Peter's Bandcamp page.
Enjoy!
Full changelog:
Added field recording locations to credits
Added columns to long credits lists
Added click handlers to URLs in credits
Added yam party event and activity images
Added Aubrey to 2D art credits
Added testers and pre-release players credits
Added placeholder 'Drink responsibly' event and effect images
Added new Queen name
Added warning output when generic bee names are used
Updated old bitey effect name
Updated credits to symmetrically balance columns when the number of items doesn't evenly fit
Updated queen portrait image
Updated special thanks credits
Updated ordering of 2D art credits
Fixed activity and effect icons pushing the rest of the HUD offscreen
Fixed throne vignettes on upgraded thrones not using the Queen's name
Fixed typo in 'Something furry this way comes' event
Fixed some effects not referencing correct icons
Files
hive-time-linux-preview.zip
87 MB
Version preview-193-g4da762dc
Dec 11, 2019
hive-time-mac-preview.zip
88 MB
Version preview-193-g4da762dc
Dec 11, 2019
hive-time-windows-preview.zip
85 MB
Version preview-193-g4da762dc
Dec 11, 2019