Hive Time
Buzz buzz!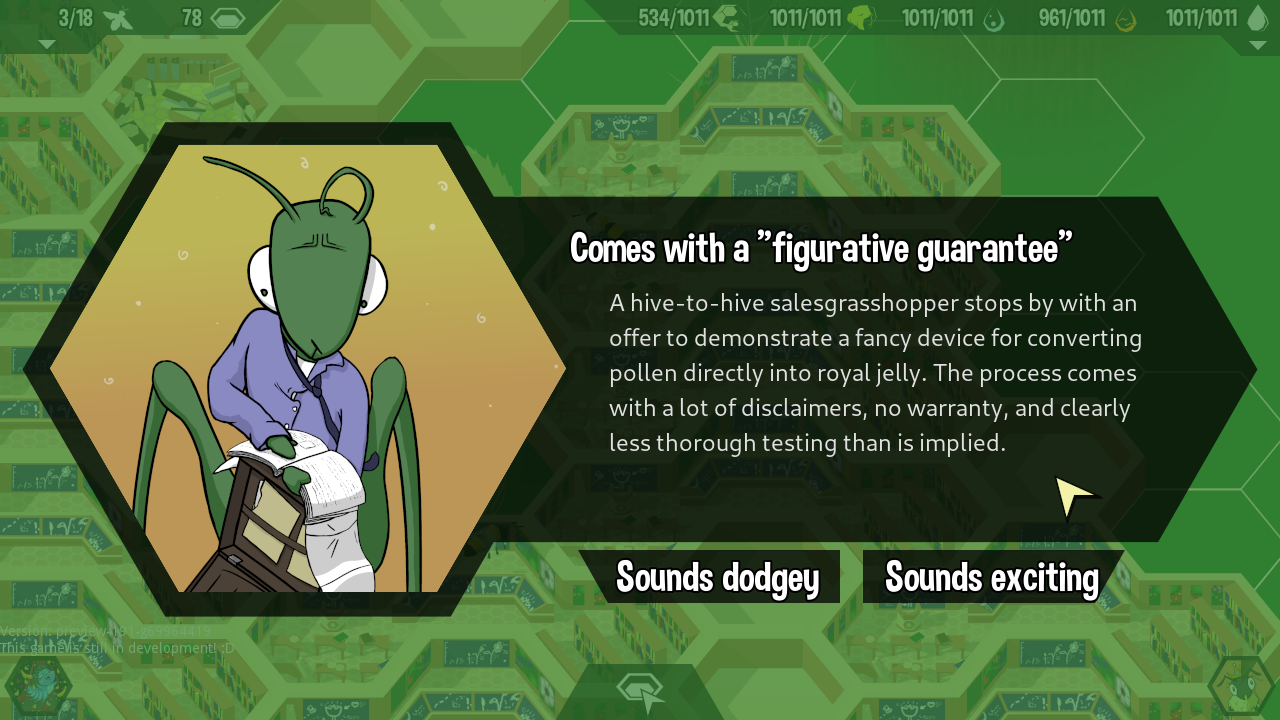 Among other tings, today's update brings in a whole stack of new event images!
If you're the kind of person who likes to tinker, the game's json files are now exposed as plain files that can be edited (these override the ones that are stored in the game's pck file, so if you break something, just delete them). Since they're distributed as part of the game, any changes will be overwritten with a new update, so it's not really reliable in terms of being usable as modding support (I might make that more friendly in a post-release update).
My main interest here is the opportunity for excited players to poke around with different values for balancing, so if you do have a tinker, let me know your results!
Enjoy!
Full changelog:
Added event and activity images for 'The patter of tiny feet,' 'A graceful return,' and 'A dancer no more' events
Added event and activity images for 'Comes with a figurative guarantee' event
Added event image and activity icon for 'End of an age' event
Refactored font handling to load fonts at runtime and externalised font files to make licence compliance easier
Refactored json loading to allow user modification of game data (doesn't work for credits ^_^ )
Updated special thanks credits
Updated event activity images for 'End of an age' event
Updated event and activity/effect images for 'Bear attack' event
Updated credits to include third party assets
Updated credits to include special thanks
Updated credits to include Beeing Together ;)
Fixed user folder button not opening Finder on MacOS
Files
hive-time-linux-preview.zip
87 MB
Version preview-191-g69964419
Dec 10, 2019
hive-time-mac-preview.zip
88 MB
Version preview-191-g69964419
Dec 10, 2019
hive-time-windows-preview.zip
85 MB
Version preview-191-g69964419
Dec 10, 2019