Hive Time
Good evening, fellow bee friends!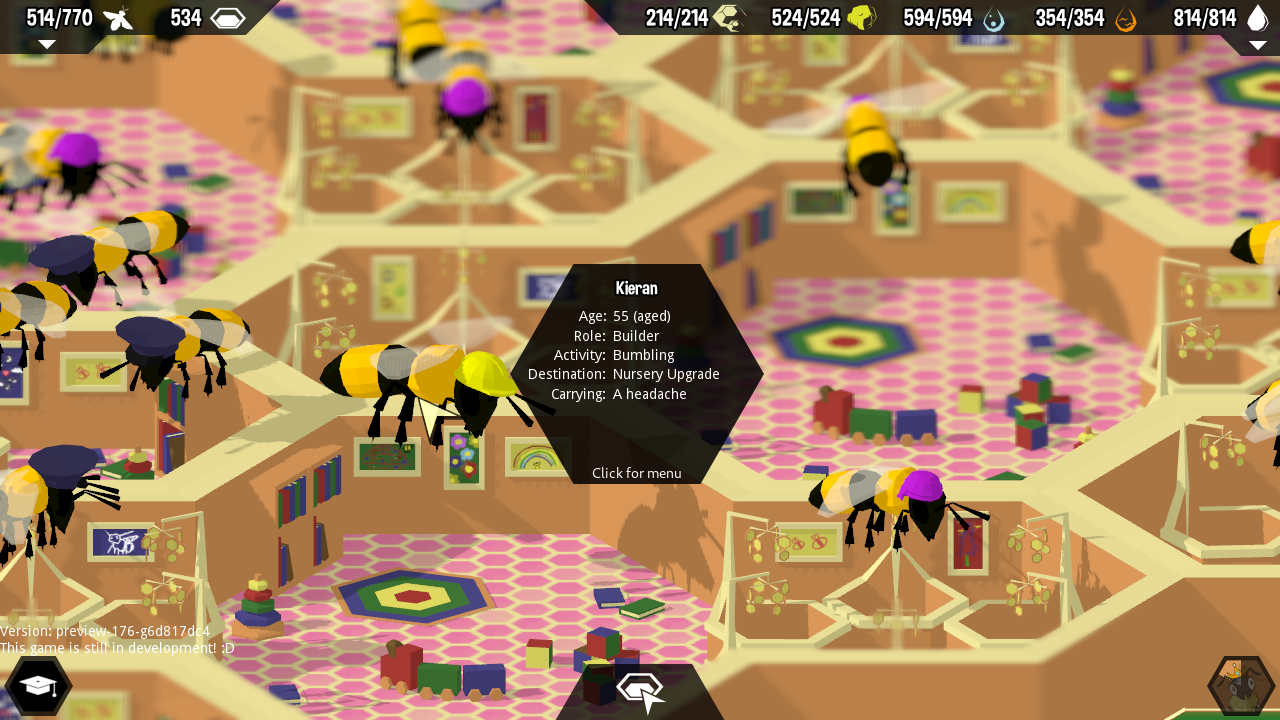 Today's update brings in a new camera option that tilts the camera as it zooms in, getting up close and personal with bees and giving a better view of their hats (some of which need realignment now!).
There are a few other miscellaneous changes, but nothing particularly noteworthy aside from a fix for a possible crash when saving via the main menu. Today's been mostly spent getting the new Hive Time press kit and @Hive_Time Twitter account put together. Both always seem to eat up a lot more time than they need to, but they're done now (for Hive Time) at least, which gets things ready for the upcoming release date announcement. Exciting times!
Enjoy!
Full changelog:
Added some new bee names
Added camera tilt when zoomed in
Added tilt when zoomed to video settings
Refactored camera handling
Replaced occurrences of 'everybody' with 'everybee' in vignettes
Updated depth of field thresholds
Updated quotes for consistency in events
Fixed grid tiles sometimes lingering when destroying disconnected cells
Fixed population slider unlock notifications not pointing at nursery cells
Fixed destroy repeat shortcut triggering destroy sounds when attempting to delete grid tiles or throne room
Fixed crash when saving via the main menu
Files
hive-time-linux-preview.zip
87 MB
Version preview-178-g1630ee65
Nov 25, 2019
hive-time-mac-preview.zip
88 MB
Version preview-178-g1630ee65
Nov 25, 2019
hive-time-windows-preview.zip
85 MB
Version preview-178-g1630ee65
Nov 25, 2019