Hive Time
Buzz buzz!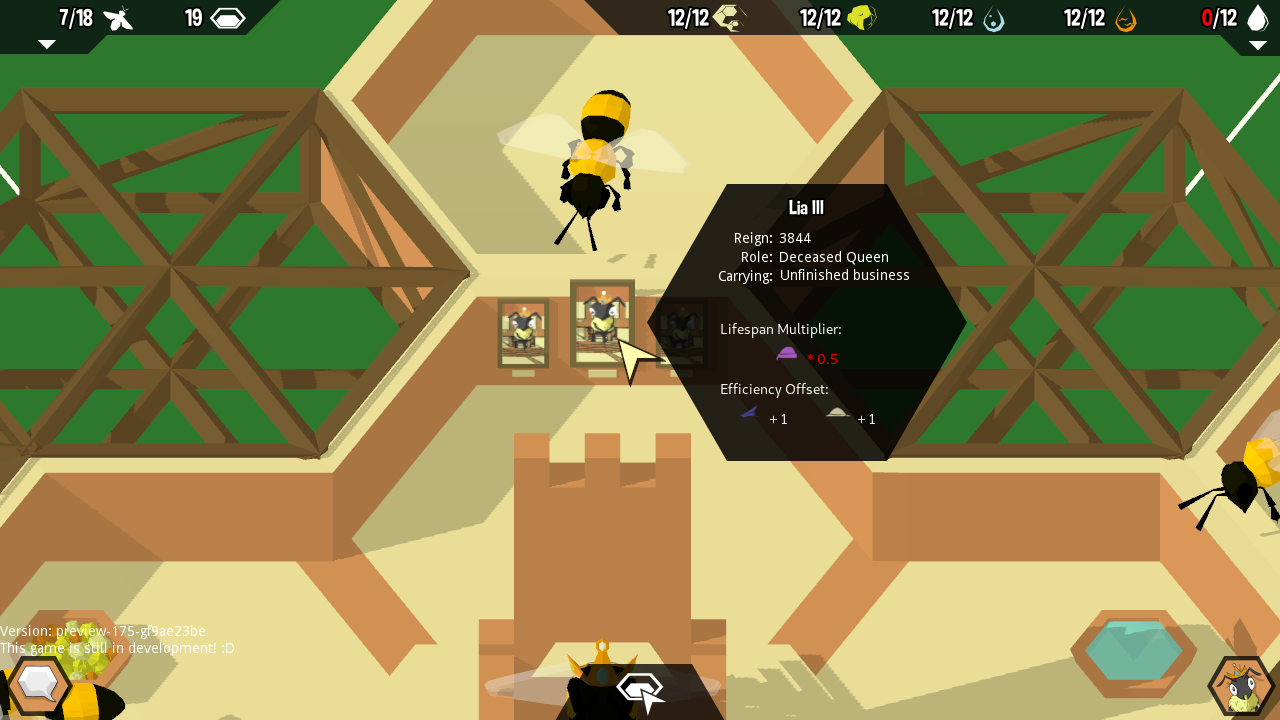 Today's update brings in a feature that I've had planned since before we started development. One of the core concepts of Hive Time is about the fluidity of populations over time and the transient nature of an individual's life within a generational community.
Part of that is getting players to embrace the population churn of normal bees coming and going, making critical contributions to the hive with their short lifespans. Another part of that is finding a way to perpetuate the lineage of Queens, harvesting and producing until the hive can be assured of a successor, who is (theoretically) just as mortal as everybody else, but still playing a part in the permanence of the hive as an entity.
That's all well and good for me to say as a writer/designer, but unless a player has reason to think about this stuff, it's unlikely that they will. I've tried not be too overt when presenting these concepts (part of Hive Time's charm comes from its bluntness along other axes), but I have been putting in small things here and there that invite players to reflect on their experiences. Hive Time may ask players to accept that their bees are cogs in the machine that will eventually die, but through little character moments in vignettes, the ability to customise special bees, and the (comparatively) long presence of Queens it also asks players to remember them as interesting and worthwhile individuals.
To help give an opportunity for players to remember their time during a Queen's reign, portraits of deceased Queens are now added to the back walls of the Throne Room, hopefully prompting players a reason to think about their experiences and the countless little bee friends whose lives they've overseen.
The portrait images themselves are temporary, and there isn't yet any variance in what sort of silly stuff the dead Queens might be carrying, but it's wonderful to finally cross this item off my todo list :)

Enjoy!
Full changelog:
Added deceased queen portraits to throne room
Added banners to upgraded throne room
Added reign tracking for queens
Added camera position to saves
Added collapse extra hud option to interface settings to default population and goal huds to hidden
Added OS name to log on startup
Refactored effect displaying code
Fixed possible crash when trying to auto-continue research when no workshops are present
Files
hive-time-linux-preview.zip
87 MB
Version preview-176-g6d817dc4
Nov 24, 2019
hive-time-mac-preview.zip
88 MB
Version preview-176-g6d817dc4
Nov 24, 2019
hive-time-windows-preview.zip
85 MB
Version preview-176-g6d817dc4
Nov 24, 2019