Hive Time
Hello bee friends!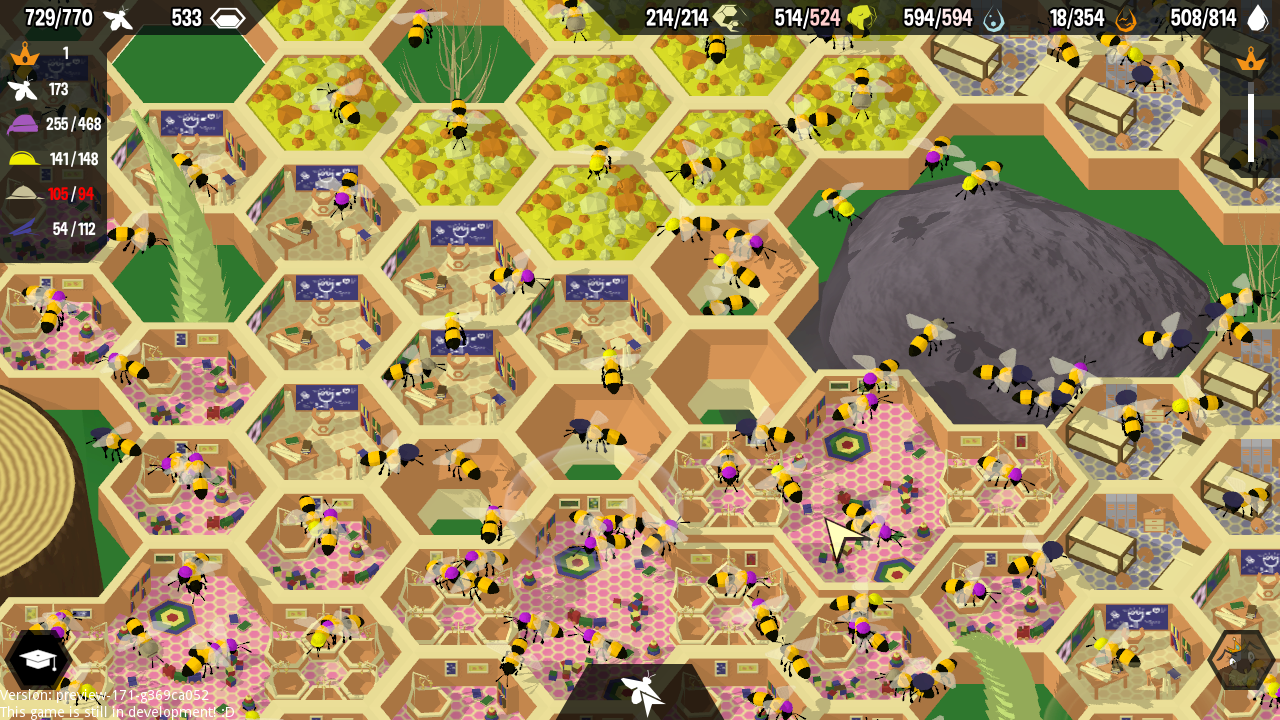 Small update today with a bunch of misc fixes/tweaks.
Biggest change is having a toggle to enable debug shortcuts/cheats. Currently this also displays a pretty clunky menu, but I'll likely rework that at some stage soon.
There is also potentially a fix for the audio popping that would intermittently occur at the start of a music track. I'm not entirely certain that I've nailed it down, but I haven't heard it all day, and that feels unusual. Fingers crossed!
Enjoy!
Full changelog:
Added debug HUD with buttons for debug shortcuts
Added shortcut for toggling debug HUD (`)
Added reset to defaults button to each settings section
Added setting for the scale of event/activity notification size
Removed role selection buttons from bee customisation for Queens
Updated settings margins to remove gaps between sliders and their labels
Updated queen cooldown upgrade to take a bit longer
Updated royal decree upgrade to cost less jelly
Fixed music exists checkbox in event selector not working
Fixed bee and bird tweens not being cleared properly
Fixed explore button disabled state not being reset when loading or starting a new game
Fixed inspect button receiving clicks while radial menus are present
Fixed select sound being played multiple times when clicking new hive from the main menu
Fixed background music/interstitial tracks playing immediately after event music finishes
Fixed frequent events potentially interrupting tutorials
Fixed cell cluster cost in radial menu growing every time costs are refreshed
Fixed menu music volume not being updated when resetting to defaults
Files
hive-time-linux-preview.zip
87 MB
Version preview-172-g5bcf3d0c
Nov 21, 2019
hive-time-mac-preview.zip
88 MB
Version preview-172-g5bcf3d0c
Nov 21, 2019
hive-time-windows-preview.zip
85 MB
Version preview-172-g5bcf3d0c
Nov 21, 2019