Hive Time
Buzz buzz!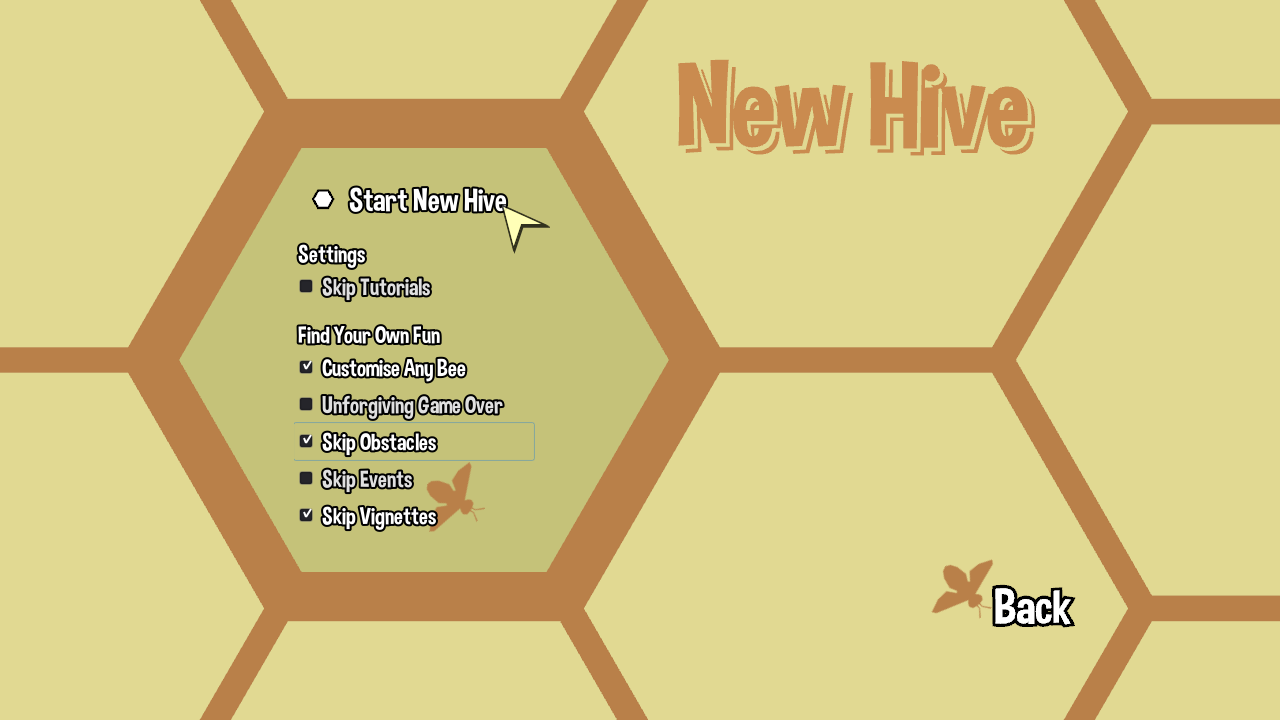 Today brings in some big changes to the main menu! Clicking "New Hive" now shows a menu with game-specific options, mostly comprising of things that don't make sense to set per-game like "skip obstacles", but also including a couple of new options. The majority of these are things that I'd normally call cheats, but for now, I'm labelling them as "Find your own fun."
The settings menu has been broken up into a bunch of submenus, which should make stuff a bit easier to see/find. There's a new interface section that currently includes the "hide HUD" and "always show shortcuts" options, which makes a bit more sense than just dumping them into the video section.
All this stuff represents changes that I've had planned for a while, and which will serve as a stepping stone to other things I'm hoping to add before release (such as custom keybindings).
There are a few other misc changes as well, so check the changelog if you're interested. Note that this update will trigger a config file reset!
Enjoy!
Full changelog:
Added version number to config file
Added config reset for any config files without version numbers
Added config reset for any config files prior to preview-171
Added version number to settings menu
Added new settings section heading font
Added new section settings selection indicator Added alternate queen vignette foreground
Added 360 main menu tile flip for transitions that lead to the same tile
Added new game menu
Added customise all bees game option
Added unforgiving game over game option
Added Alt+Enter shortcut to main menu
Added dimming effect on other radial menu items when mousing over a back button
Moved skip obstacles, skip tutorials, skip events, skip vignettes from settings menu to new game menu
Moved always show shortcuts into interface settings
Moved hide hud into interface settings
Updated handling of dead queen when choosing to continue playing (not very tested, may result in crashes?)
Updated research completion handling to automatically continue paused research options if there are any
Refactored settings menu to use submenus for each config section
Refactored menu freeing
Fixed Alt+Enter shortcut not working while radial menus are displayed
Files
hive-time-linux-preview.zip
87 MB
Version preview-171-g369ca052
Nov 20, 2019
hive-time-mac-preview.zip
88 MB
Version preview-171-g369ca052
Nov 20, 2019
hive-time-windows-preview.zip
85 MB
Version preview-171-g369ca052
Nov 20, 2019