Hive Time
Buzz buzz buzz buzz!

Today's update has a whole stack of stuff!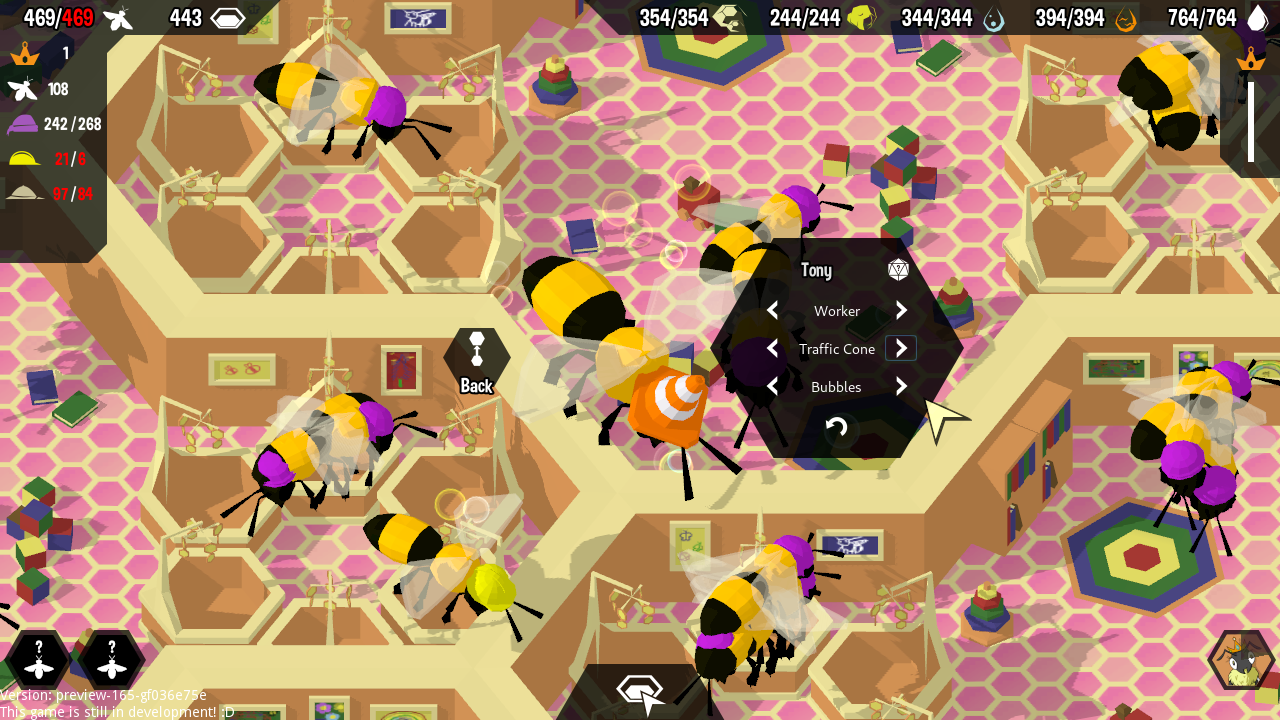 Six new hats are available to give to special bees (three for Workers, three for Defenders). These only have cosmetic value, but they're fun and that's nice. If you'd like to watch me make them, I managed to catch it on stream. Special bees will now also pick an initial hat at random.
One awkward side effect of this is that changes have meant that any saved bees from the past week will be loaded without hats. I've decided to overlook this since it's primarily a cosmetic thing, and since a full population cycle (ignoring special bees whose hats you can change manually anyway) takes about 90 seconds, it's not an issue for long.
Peter's passed me a new music track that is the new default event track, freeing up "Working Well" to be used for overtly positive events. This should help expand the tonal range of events a bunch, and I'm looking forward to seeing how the game as a whole feels with this change.
There are also a bunch of new/previously missing building info screens that are in now, which means that every cell in the game should have a working info screen. Yay!

In addition to all that, there are a whole bunch of bugfixes as well. Exciting times!

Enjoy!
Full changelog:
Added a new bee name
Added generic neutral event music track
Added slugmonkA to dead not-last queen event
Added activity notification when beesitter population reaches zero
Added activity notification when beesitter population starts to decline (needs tuning, probably isn't as sensitive as it needs to be)
Added new traffic cone, party hat, and sunglasses hats for special workers
Added new bobby hat, aviators, and bearskin hats for special defenders
Added random chance for any role-specific hat to special bees
Added random chance for any trail effect to special bees
Added building info screen for upgraded nurseries
Added building info screen for upgraded barracks
Added building info screen for wax assembler
Added building info screen for honey refinery
Added building info screen for jelly refinery
Updated building info screen title for jelly refinery
Updated upgraded workshop info screen to use normal workshop background for now
Updated bee bumble behaviour to prevent bees from stopping on the throne tile
Updated research screen to always show unlocked research options regardless of whether research conditions have been met
Refactored hat handling (will cause bees in saves made between preview-155 and preview-163 to have no hats)
Fixed default hat not being set properly when loading save games
Fixed upgraded barracks intermittently only covering base barracks range
Fixed upgraded production facilities not playing animations
Fixed cells under the mouse cursor getting pop-in events when selecting a category in a radial menu
Fixed role lock states not being reset when spawning a new queen into a new hive or when loading a saved game
Fixed role lock buttons remaining enabled when spawning a new queen into a new hive
Fixed build allocation indicator in radial menus not being updated when construction finishes
Fixed upgraded production not receiving pause/resume state changes
Files
hive-time-linux-preview.zip
87 MB
Version preview-165-gf036e75e
Nov 16, 2019
hive-time-mac-preview.zip
88 MB
Version preview-165-gf036e75e
Nov 16, 2019
hive-time-windows-preview.zip
85 MB
Version preview-165-gf036e75e
Nov 16, 2019