Hive Time
Bees, bees, bees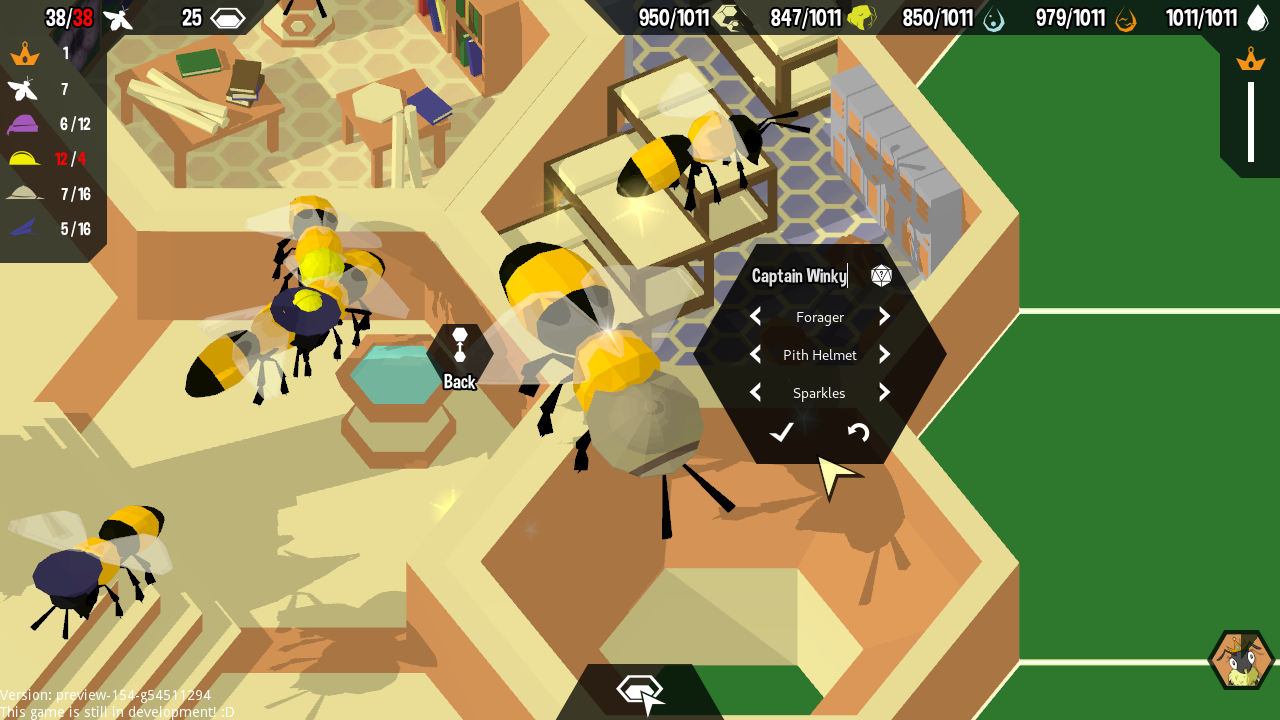 Today's update adds special bees (internally I've been calling them "hero bees," but that's marginally gross terminology I picked up way back when I worked in the retail industry). These bees live a bit longer, work a little more efficiently, move a little faster, and stand out a bit visually.
Aside from Queens, all of the bees in your hive end up being pretty transient, and I wanted to have some special ones that players could get attached to - when you've got a population of 500 bees, keeping track of all of them is too hard anyway.
Alongside this, I've also added bee customisation options. Currently, you can only customise special bees, but I'll probably add an option to the settings screen to enable it for all bees. Right now, it lets you change bees' names, their role (this probably won't be enabled for everyone if I do add a setting to enable it hive-wide, since that'd risks breaking some things), what hat they're wearing (currently only default hats or no hat, but I'll add a bunch of role-specific hats in a later content pass), and what kind of effect trail they leave behind (currently this is three boring ones, but I'm going to add more exciting stuff later).
Peter managed to find a nice way to bring back the previously orphaned track that we removed from the game a while back. Rather than filling in as one of the background music tracks, it's getting a place of prominence as accompaniment to the final event of the snail monk chain. It's very nice to have it find a home (this time for sure!).
Enjoy!
Full changelog:
Added some new bee names
Added new music track for the 'Slime blessings' event
Added activity type for bees
Added rare special long-lived bees
Added sparkles, bubbles, and dots effect trails for special bees
Added customisation options for special bees
Added force hero debug shortcut (Ctrl+N)
Updated activity indicators to not count time while moused over
Refactored bee hat management
Fixed some unused variable warnings
Files
hive-time-linux-preview.zip
87 MB
Version preview-155-g7955fab5
Nov 09, 2019
hive-time-mac-preview.zip
88 MB
Version preview-155-g7955fab5
Nov 09, 2019
hive-time-windows-preview.zip
85 MB
Version preview-155-g7955fab5
Nov 09, 2019