Hive Time
Greetings, fellow bee lovers!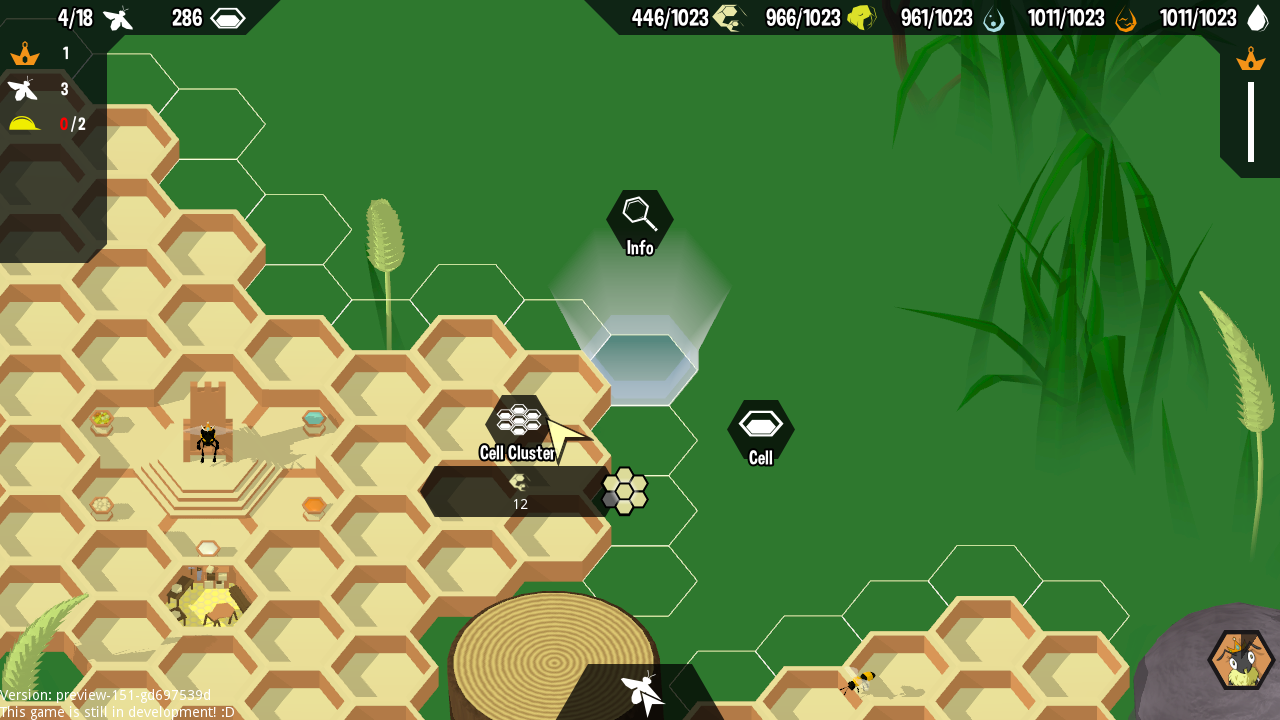 Today's update adds a new research option for building multiple empty cells at once, making mid/late game hive expansion a bit less click intensive. When selected, the cell cluster build option will build empty cells in all unoccupied cells that are adjacent to the selected cell (constructing a maximum of 6 cells without overriding anything that's already present).
There are also a couple of research tree changes, making the upgraded throne room and the things it enables no longer require an upgraded workshop. This helps give the sense of two distinct branches of research rather than one miasma.
Enjoy!
Full changelog
Added empty cell cluster upgrade research option
Added minimum beesitter population condition to 'specialisation is for other insects' event
Added event list dropdown to event selector debug screen
Added bee effects to bee object for future portrait stuff
Updated throne upgrade research to not require an upgraded workshop
Updated wax assembler upgrade research to not require an upgraded workshop (not yet implemented)
Updated upgraded barracks model to reduce zfighting on posters when zoomed out
Refactored queen effect selection code
Fixed tops of honey and jelly refinery build previews not being transparent
Fixed typo in throne upgrade research description
Files
hive-time-linux-preview.zip
87 MB
Version preview-151-gd697539d
Nov 05, 2019
hive-time-mac-preview.zip
88 MB
Version preview-151-gd697539d
Nov 05, 2019
hive-time-windows-preview.zip
85 MB
Version preview-151-gd697539d
Nov 05, 2019