Hive Time
2019-11-01 (preview-144 & preview-145)
---
Welcome to November!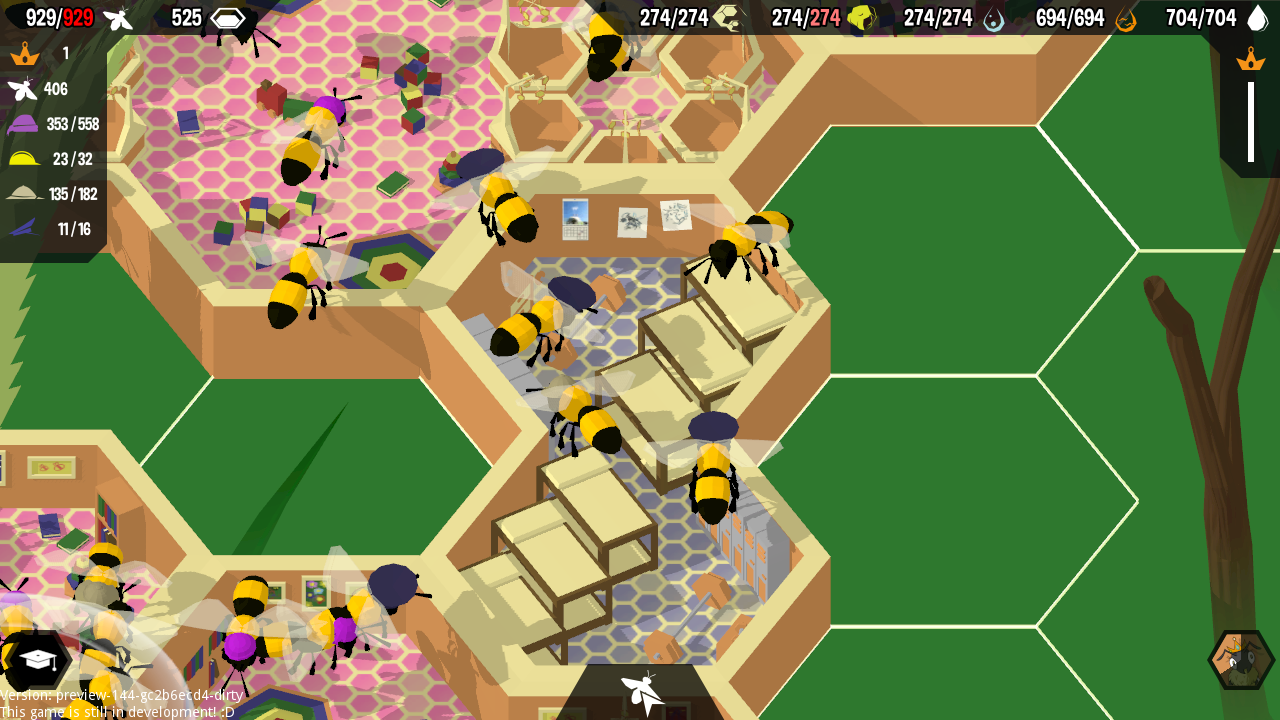 Upgraded Barracks are here, rounding out upgrades for all of the role-specific cells. These have double the radius of non-upgraded Barracks, making the hive easier to cover with fewer buildings. Right now, there isn't a minimum frequency of defence related events, but I'll be addressing that in a future build, which will make Barracks a bit more relevant.
Today's update also includes researchable efficiency upgrades for all specialist roles, increasing the resources that Foragers can carry, how quickly Builders progress research and construction, etc.. These currently require an upgraded workshop and upgraded versions of the relevant associated cells to be built (eg: Beesitter upgrade needs an upgraded Nursery).
Currently it's not so easy to spot when these become available, but in a future build, I'll be adding an activity indicator when new research options are unlocked to help guide players towards stuff.
The last couple and the next several updates have been/will be focused on pushing in more gameplay-relevant content (cell upgrades, bee upgrades, research options, events, etc.), moving closer to what's going to be in the release version of the game.
Some of these are going to come in a bit rough and not-quite-fully-featured (for example, the upgraded nursery will be exposing some options for managing population sliders a little differently, but those are something I can add later without having a big impact on gameplay/balancing), but I think this is the best approach to get me closer to release as fast as possible.
Enjoy!
Full changelog:
Added efficiency upgrade research option for beesitters
Added efficiency upgrade research option for builders
Added efficiency upgrade research option for foragers
Added efficiency upgrade research option for defenders
Added upgraded barracks
Added icons for radial menu options leading to submenus
Updated ordering of cell upgrade research options to match cell research options
Updated tooltip delay to 0.5 seconds
Updated rendering engine to use Godot's multithreaded model
Fixed calendar and poster textures in upgraded barracks
Files
hive-time-linux-preview.zip
87 MB
Version preview-144-gc2b6ecd4-dirty
Nov 01, 2019
hive-time-mac-preview.zip
88 MB
Version preview-144-gc2b6ecd4-dirty
Nov 01, 2019
hive-time-windows-preview.zip
85 MB
Version preview-144-gc2b6ecd4-dirty
Nov 01, 2019
hive-time-linux-preview.zip
87 MB
Version preview-144-gc2b6ecd4-dirty
Nov 01, 2019
hive-time-mac-preview.zip
88 MB
Version preview-144-gc2b6ecd4-dirty
Nov 01, 2019
hive-time-windows-preview.zip
85 MB
Version preview-144-gc2b6ecd4-dirty
Nov 01, 2019