Hive Time
Hi friends!
Today's update includes all the late changes I made in the lead up to exhibiting at Kid I Am yesterday.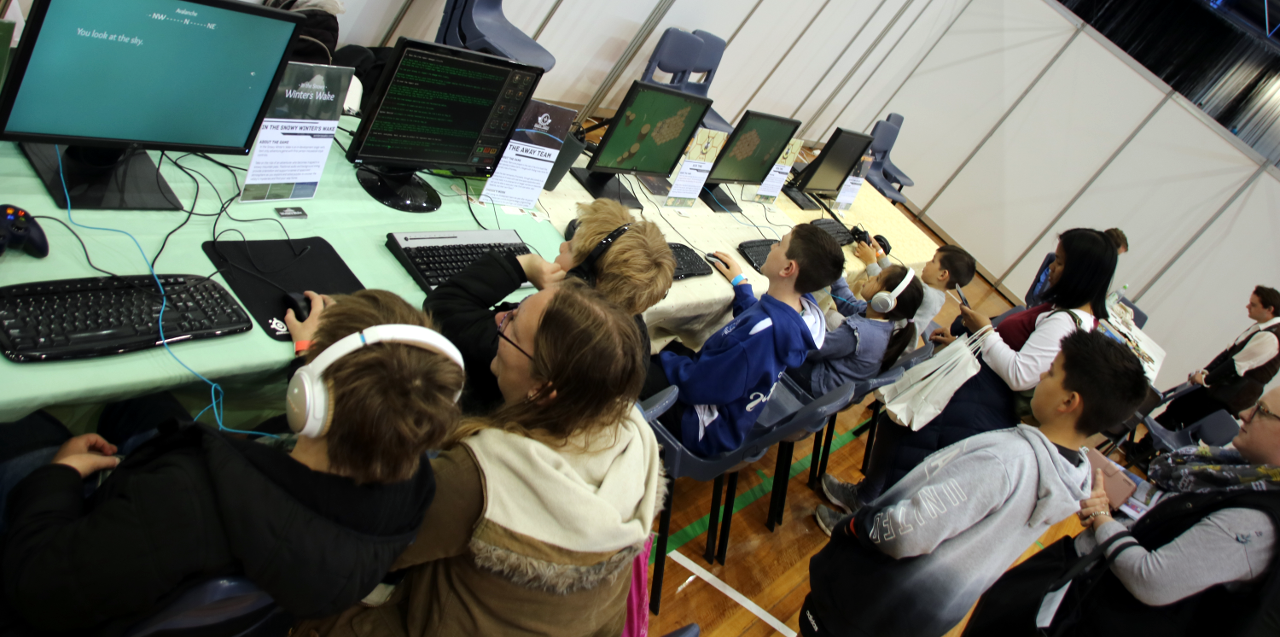 All cells now have info screen background images (some of them probably need a bit more polish, and there's room for upgraded cells to have alternate backgrounds, but that's optional polish), and the vignettes for production facilities now have foreground bees (storage cells would too if any of them had vignettes attached). There's still a lot of event art to go in, but this feels like a nice art milestone to have crossed :)

Peter's been working on a new music track for negatively framed events. The previous one felt a bit too ominous/gloomy for stuff like "Cold season" reducing foraging rates or fruit flies stealing a tiny bit of honey in "Like the tiny, deadly wind," and this new one is a much better fit. The old one is still hanging around for really bad events like "Bear attack" or the worst outcome from "Wasp attack."
The event went well, and Hive Time got a steady stream of attention. I was initially planning to show off three of my games (In the Snowy Winter's Wake, Honeycomb CRUNCH and Hive Time), but at the last minute the organisers offered me the use of some more space, so I brought along a game I did contract work on and love very much (The Away Team) and a second computer for Hive Time.
Kid I Am attracts a much younger audience that I'm used to exhibiting for/observing, so the event gave an interesting opportunity to see which parts of the game are interesting to kids that might not be up to reading the tutorials, or who haven't been exposed to the diversity and representation concepts that end up emerging from population dynamics. Some were just happy to make and destroying empty cells (I leaned over and used the give-lots-of-resources cheat when I saw that happening), but plenty more were able to grok what was going on and get into growing a hive/researching new stuff to build.
My favourite moments came from watching older people assisting younger people (whether that was a parent reading to a child who wasn't quite up to reading it themselves or an older sibling letting a younger sibling drive while they both planned out how to expand and grow). It's a pretty nice feeling to see your work bring people together :)
Enjoy!
Full changelog:
Added bee sound count setting (should allow people on high end systems to have lots more bee sounds before Godot's audio engine starts losing its marbles)
Added WIP pass on new generic bad event track (old bitey and the worst wasp attack outcomes still use the previous one)
Added vignette/info background images for wax, pollen, nectar, honey, and jelly storage cells
Added worker foreground image for wax assembler and honey vignettes
Added horizontal pop to foraging screen buttons when selected
Added upgraded map room info screen
Removed placeholder foraging zone text
Removed automatic freeing of resource/research/construction particles and rely on maxDuration instead (increases efficiency of particle scenes)
Removed bad event music from 'Rainy season' event
Reduced target zoom level in zoom_to_cell() to initial zoom
Updated map room info screen to mention exploration and foraging tiles
Updated barracks description to mention outside deployment
Updated ambient sound loops to use ogg encoding
Fixed typo in defence menu legend
Fixed typo in upgraded map room description
Fixed typo in 'Late night rendezvous' vignette
Files
hive-time-linux-preview.zip
87 MB
Version preview-139-g3e633ff7
Oct 27, 2019
hive-time-mac-preview.zip
88 MB
Version preview-139-g3e633ff7
Oct 27, 2019
hive-time-windows-preview.zip
85 MB
Version preview-139-g3e633ff7
Oct 27, 2019