Hive Time
Buzz buzz!
Another slow week, hopefully coming out of the cold/migraine/funk storm I managed to find myself in this month (fingers crossed!).
Today's update brings in new event images for the vinehopper scientist event chain, drawn by Mim. Normally she passes me some rough line work and I repaint them, but she was having fun with this one and we both felt it was ready to go straight in.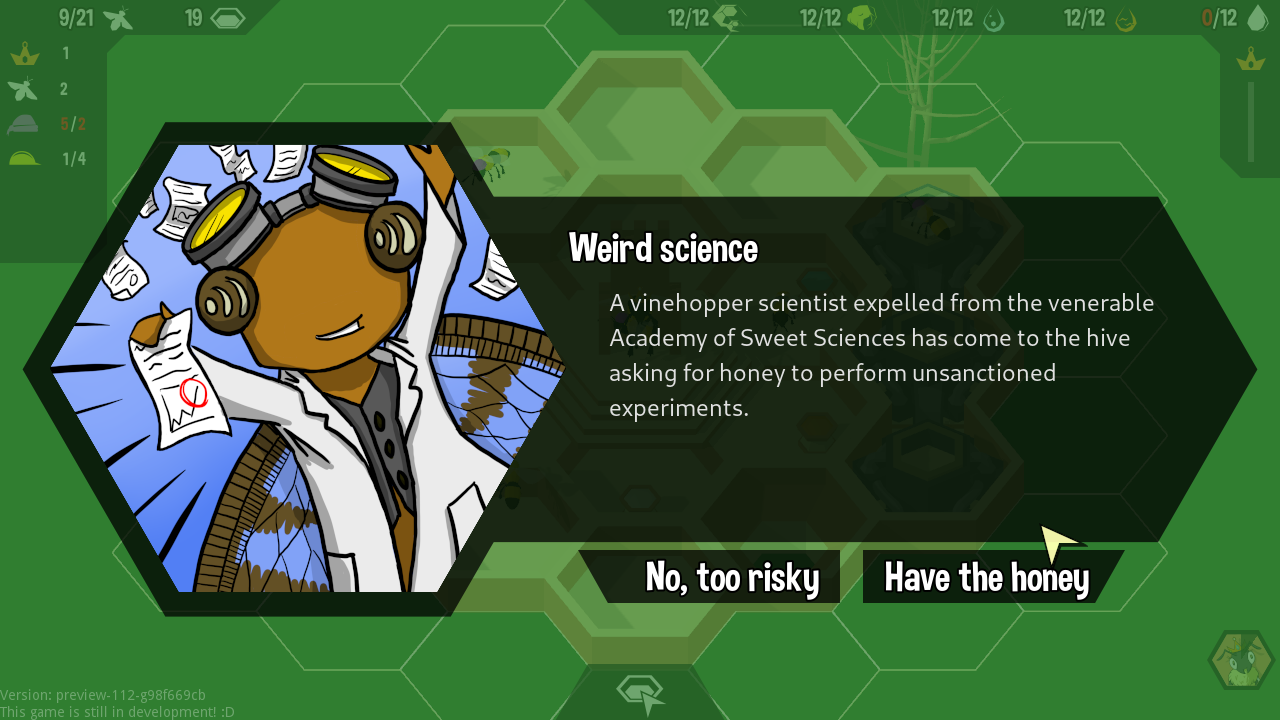 I've also made some changes to how music is handled. In addition to the existing "background" pieces, we now have a couple of "ambient" pieces, which are intended to slot into the environmental audio and help make the gaps between more structured music feel natural/intentional. In addition to some little bits for this, Peter's wrapped up a new background track that we're calling "Afternoon Breeze." Here are some thoughts from him on both!
"Although there's no gameplay elements that relate to a day/night cycle, I've found it helpful when developing these more 'business as usual' background pieces to differentiate them by thinking of different times of day. If Peace reminded me of dawn, this one reminds me of a pleasant afternoon. It was enjoyable to let the melody be led by the bass in this piece, while the classical guitar makes an entrance for the first time in this soundtrack.

We've started to toy with adding little mini pieces to help give a little space between the main background pieces. They're much more in the background and have a slightly naive, improvisatory feel, as if you're just hearing someone noodling around before the main music comes in. Hopefully they act as little palate cleansers between the more developed pieces of music."
Enjoy!
Full changelog:
Added vinehopper scientist event images
Added 'ambient' music interleaved between 'background' music tracks
Added piano ambient track
Added marimba ambient track
Added Afternoon Breeze background track
Removed Beginnings track from background music list (now only plays when starting a new hive, loading, or spawning a new queen)
Fixed typo in map room info text reported by peabop
Possible fix for audible pop when transitioning to event music
Reduced new Queen cooldown to 1/3 Queen lifespan (may result in cosmetic negative cooldown values in existing saves)
Files
hive-time-linux-preview.zip
87 MB
Version preview-112-g98f669cb
Sep 27, 2019
hive-time-mac-preview.zip
88 MB
Version preview-112-g98f669cb
Sep 27, 2019
hive-time-windows-preview.zip
85 MB
Version preview-112-g98f669cb
Sep 27, 2019