Hive Time
Buzz buzz!
A small QOL patch today with a couple of new items.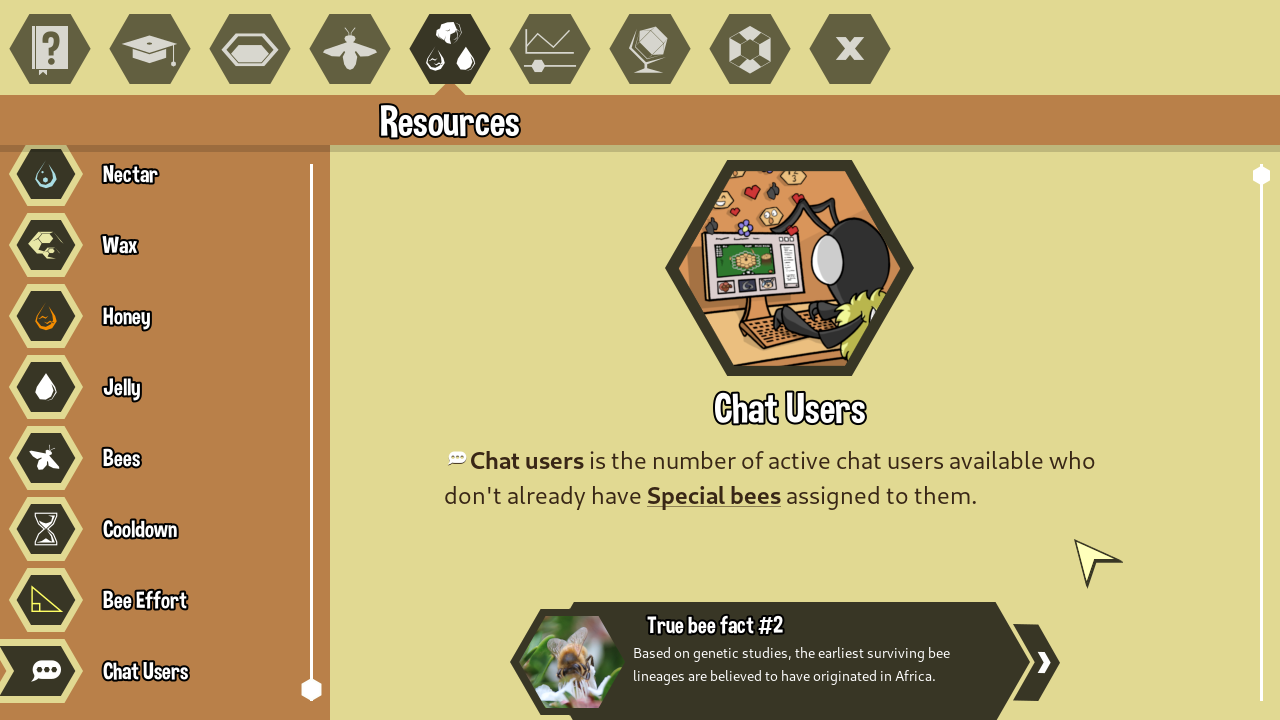 The Beepedia now has a page explaining the "chat users" resource. It's brief, but hopefully clears up any confusion about what that is from players who're eyeing off the Manual Chat Bees option. I've also added mention of the icon and its significance to the Chat Insutrctions screen that's accessible from the Community Settings menu.
Continuing the Hiveversary Update's focus on exposing the Beepedia more, each management screen now has a Beepedia button that links directly to the relevant Beepedia page. Having trouble grocking Foraging? There's that button. Can't understand Defence? Smash button, receive information.
Enjoy!
Full changelog:
Added chat users page to Beepedia resources topic
Added reference to chat useres to special bees Beepedia page
Added mention of chat icon to chat instructions
Added chat gift icon to chat instructions
Added some new facility subsitutions
Added Beepdia button to all manamgent screens
Added larger icons for gift voting options
Added error sound when manual chat bee can not be spawned
Added a timeout bar to gift voting UI
Added Player::make_way_for_bee() to handle killing non-special bees to make space for manually spawned chat bees
Refactored updating of gift voting time UI
Updated special_bee effect handling to use make_way_for_bee()
Updated throne radial menu icon ordering to be more consistent with other cell types
Updated storage cells' menu icon ordering to be more consistent with other cell types
Updated image for management screen close buttons
Updated chat gifts icon to include a bow on the present box
Updated dev gifts icon to include a bow on the present box
Updated dev messages to use a larger font
Updated gift voting font size to be larger
Updated supporters list in credits
Fixed closing Beepedia when in a management screen not unpausing the game
Files
hive-time-linux-v1.2.zip
129 MB
Version v1.2-9-g829c35d6
Dec 25, 2020
hive-time-mac-v1.2.zip
142 MB
Version v1.2-9-g829c35d6
Dec 25, 2020
hive-time-windows-v1.2.zip
128 MB
Version v1.2-9-g829c35d6
Dec 25, 2020