Test builds available to Patreon supporters
---
Greetings, intrepid explorers!
Beware! Hiding here are dangerous prototype builds of Into Darkgroove Forest. Be warned that they contain ROUGH EDGES, PLACEHOLDER CONTENT, and WORK IN PROGRESS GAMEPLAY. Download only if you dare!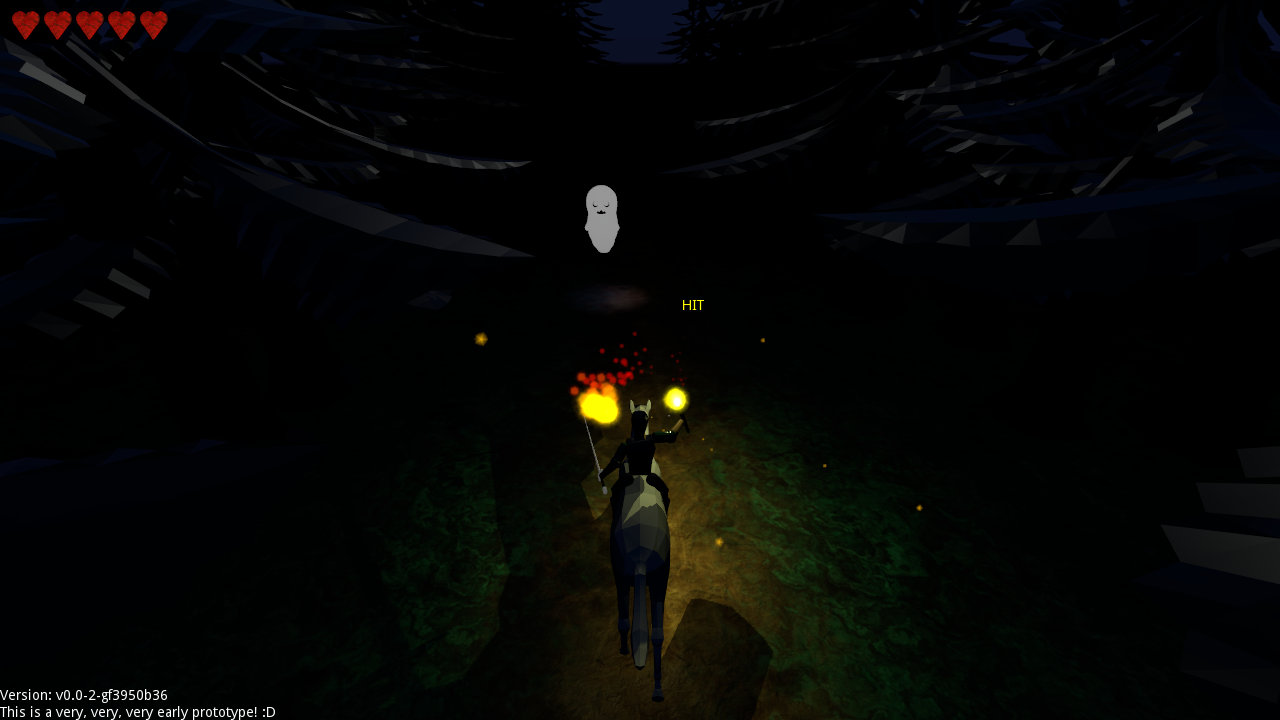 I'm excited to be making these builds available now. With the exception of Hidden Star, this is the earliest that I've shared an in-development project. What's shown here in these builds is likely to be wildly different from later versions of the game, and as with Hive Time, I'm excited to share Into Darkgroove Forest's journey as it grows to resemble whatever its final form ends up being.
For example, the lateral positioning of enemies is not likely to remain as it currently is - it's a placeholder implementation that uses position to indicate enemy type in lieu of enemy presentations that are visually distinguishable. I opted to use this approach so that I could more quickly get a proof-of-concept for beat definition parsing and different action implementations up and happening without being dependent on making more assets (this was before there was even a ghost model!).
It's best to consider everything in this build to be placeholder. I'm vaguely happy with the ghost and maybe the torch particle effect, but there's nothing else that feels like it'd be a good fit for where I am currently envisioning the game going (the music would be an exception, but it's intended to be a condensed exploration of where a 2 - 3 minute track might go rather than being a release ready track itself).
I've popped a few quick-and-dirty configuration options in this build. There's a slider for manually setting a latency offset (eventually we'll have a wizard for working this out for you, possibly featuring an actual wizard) and some tick boxes that toggle some helper features that may make the game easier/harder.
This build (like many builds to follow) comes with one music track, but it also will load custom music from the following location provided they are .ogg files.

Linux: ~/.local/share/darkgroove/music
Mac: ~/Library/Application Support/hivetime/
Windows: %APPDATA%/hivetime/
In order to be used, a .ogg music track must be accompanied by a .txt file of the same name. If you're super keen, you can have a go at writing your own (keep in mind that the format is probably going to change!). They're effectively CSV files, with the first column being a timestamp in decimal seconds and the second being either basic or advanced. The first two lines of the included horsedemo2 beat definition look like this:

3.779,basic
7.372,basic
As with Hive Time, I'll be aiming to post frequent updates on the game's store page and website (which I still have to set up!), and posting monthly progress summaries here on Patreon.
If you have a chance to play and have any thoughts to share (keeping in mind that this is a very, very, very early prototype), I'd love to hear them!
Enjoy!
Files
darkgroove-forest-linux-v0.0.zip
18 MB
Version v0.0-53-gf4bd6e25
Sep 13, 2020
darkgroove-forest-mac-v0.0.zip
18 MB
Version v0.0-53-gf4bd6e25
Sep 13, 2020
darkgroove-forest-windows-v0.0.zip
17 MB
Version v0.0-53-gf4bd6e25
Sep 13, 2020
darkgroove-forest-linux-v0.0.zip
18 MB
Version v0.0-2-gf3950b36
Aug 01, 2020
darkgroove-forest-mac-v0.0.zip
18 MB
Version v0.0-2-gf3950b36
Aug 01, 2020
darkgroove-forest-windows-v0.0.zip
17 MB
Version v0.0-2-gf3950b36
Aug 01, 2020
Get Into Darkgroove Forest